There's watching a game as a fan, and then there's breaking down basketball film as a student of the sport.
At an earlier age, catching a game on television is a great introduction to the sport. Seeing some of the best athletes in the world compete can excite, and often inspire us to learn how to play on our own. Over time, watching games go from merely a form of entertainment to something more educational.
Certain moves from our favorite players become more achievable, and making shots with similar accuracy seems less difficult. Part of advancing as a basketball player incorporates how we evolve as an observer of the game. Yes, we continue to be fans that appreciate human highlights, but as a competitor, let's start to break down why it becomes a highlight. 
1st Observation: What did you see?
2nd Observation: Break down any particular action (e.g. Flare Screen)
3rd Observation: What can be learned & later used on the court?
In the 6-second clip above, there are at least 5 concepts to take away as a learning opportunity.
Which ones did you spot?
Lack of ball-pressure defensively to limit the vision for an easy pass

Selling the screen on offense: catch the attention of defenders & change of speed

Stay between ball & man on defense

Offense interchanges on the weakside to occupy help defense

Basket cutter expects contact for strong finish at the rim
Part of having a CTG Mindset is capitalizing on mental training opportunities to elevate sport performance. Watching film is a prime example of a mental exercise off the court that can lead to a significant impact on the court.
There are a few different types of films used for player and team development: Individual, Opponent, & Championship Caliber
Each type of film serves a different purpose, but all of them are useful for learning how to improve in some capacity.
---
INDIVIDUAL BASKETBALL GAMES
Self-scouts are difficult because there is an inherent bias in evaluating our own performances. But, nobody knows their own game better than yourself. Watching individual game film is a good way to target specific skill development, or reflect on previous performances.
TARGET DEVELOPMENTAL OPPORTUNITIES
Watching game film for individual development takes a professional approach.
Start with an objective in mind by breaking down particular actions: ballhandling, reading screens, or off-ball defense are all examples. This narrows the focus for improvement and can be a more efficient use of time. Keep the developmental opportunities front of mind.
CREATE PROS/CONS
It's easy to be your own biggest critic. This is why keeping the developmental opportunity front of mind helps prevent you from losing focus on the purpose of watching film.
It helps to take notes: listing all the good plays to continue doing during games, while also recognizing any mistakes worth correcting with more practice.
LEARNING TO LEAD
Film supports the development of EQ & IQ. A definition of emotional intelligence (EQ) is the ability to identify and manage one's own emotions, as well as the emotions of others. In other words, watching film can help anyone become a better leader with the team.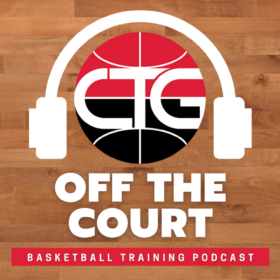 Tune Into Off The Court: Basketball Training Podcast
* Composure: The Most Important Thing We Learn In Sports *
Evaluate characteristics that commonly are attributed to leaders, then watch clips from possessions that ended in positive and negative results.
Are you comfortable with the body language shown after either of those plays? Or are there ways to improve?
Breaking down film prepares leaders with the EQ & IQ to keep composure during pressure situations.
SCOUTING OPPONENT BASKETBALL GAMES
Scouting an opponent aims to mentally prepare players and teams to collectively gain a competitive advantage.
There are strengths and weaknesses to every team. After breaking down this type of film there should be an increase in confidence in the gameplan and an expectation for success versus a future opponent. 
CONSIDER COACHING STAFF POINTS OF EMPHASIS
Typically coaches will provide a scouting report for an upcoming opponent. Each coach is different in the amount of information shared, but there are typically two to three points of emphasis that are the most important to take away. Start with the focal points communicated by the coaching staff to get a feel for an opposing team's style of play and particular players that could impact the result of the game.
WATCH POTENTIAL MATCHUP
Similar to the training exercise from the 6-second clip above; after multiple observations, certain players will start to catch your attention.
These are likely the primary scoring options or some of the most disruptive defenders. If any of these players are potential matchups in the future, visualize how to prepare defending against them. Observe their tendencies, and pick up on how they are best used in the particular style of play.
This could be something already included in the scouting report, or a great way to impress upon the coaches that you've done your homework.
COLLEGE OR PROFESSIONAL BASKETBALL
Players at the highest level are there for a reason. Teams that are in a position to compete for a championship are showing others how to prepare for the same opportunity. Studying championship-caliber competition could be what's been missing the whole time. 
BEING A FAN OF THE GAME
Casually watching basketball does more than some realize. Without even thinking about it, you'll be exposed to a range of talent and an appreciation for different styles of play. After a while tendencies and terminology start to become common knowledge that can translate to your own game.
But, there is a difference between being a fan of the game and being a student of the sport.
WHAT MAKES THE "BEST" THE BEST?
Studying the best of the best is how the game of basketball has evolved from rigid skill sets in the past to the dynamic capabilities demonstrated today. 
Little did you know that all of those G.O.A.T. debates can actually help better understand the game of basketball. Why are these players even in the discussion for being considered the greatest of all time? These are the players to study.
Watch what makes the best shooters still find ways to get open (e.g. changing speeds or setting up cuts). Or, think about the teams coming away with trophies. There are common traits among championships teams that will stand out after watching them play.
Being the best only lasts, until the next person or team comes around and does it better. 
---
---
KEY TAKEAWAYS FROM BREAKING DOWN BASKETBALL FILM
Breaking down film is a sign of being a student of the sport

A CTG Mindset uses mental training exercises (e.g. breaking down basketball film) to elevate sport performance
Individual Game Film: Taking a pro approach & evaluating EQ vs IQ
Scouting Opponents: Preparing to gain a competitive advantage
Study Championship Caliber: Observing what makes the best